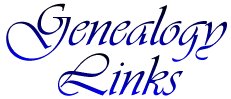 43rd Alabama Infantry Regiment--by my cousin Richard Sinyard!
44th Alabama Infantry Muster Roll
American Colonies and Plantations and Ship Records
Ancestry.com--Online Records
Atkinson Surname Resource Page at Rootsweb (or at GeoCities)
Descendants of Lazarus Atkinson (and Mary Ellen Lane)

Best Genealogy Links on the WWW!
British Genealogy Sites
Bureau of Land Management--Eastern States Home

Cindy's Southern Genealogy
Cyndi's List of Genealogy Sites on the Internet--Thousands of Links!

Deciphering Old Handwriting
Directory of Royal Genealogical Data

Everton's OLS GEDSRCH Lite

Family History Research Register
Family Tree Maker Search Page
Frontier Press--Genealogical and Historical Books

GENDEX--Go to the index and search for your surnames
Genealogical Database Index at Gentree
Genealogical Guide to Ireland
Genealogist's Index to the World Wide Web
Genealogy at the Birmingham Public Library
Genealogy-Books.com
Genealogy at Allen County Public Library, Ft. Wayne, Indiana
Genealogy Gateway to Scotland
Genealogy Gateway to the Web by Steve Lacy
The Genealogy Homepage
Genealogy is My Hobby!
Genealogy Online at Emcee.com
Genealogy's Most Wanted
GeneaNet
GenConnect
GenForum
GenMatch
GenServe Home Page
German Genealogy Home Page
Global Surname Search--GenBBS
Go Roots Genealogy Records and Links

Helm's Genealogy Tool Box
H-GIG Genealogy
Hocutt Surname Resource Page

Irish (Genealogy) Family Names
Irish Ancestors
Irish Family History Foundation
Irish History on the Web

Julie's Welsh Surname List

Kith & Kin--Rebecca Lambert's Genealogy Pages--My *BIG* genealogy page.

Lambert Surname Resource Page
Descendants of Joseph Lambert (and Elizabeth Chaney)

Mize Surname Resource Page
Descendants of Frederick Mize (and Sarah Shaddock)

Pam Smith's Index Page
Parson's Genealogy Registry--for Family Origins Users
Descendants of Enos Perry (and Charity Massey)
Pratt Surname Resource Page

Ragland Surname Resource Page
Rootsweb Genealogical Data Cooperative

Scotland Genealogy
Scots Origins--General Records Office
Searchable Genealogy Links
Stock/s Surname Resource Page
Surname Springboard Index--I'm listed here!
Surnames.com
Surname Web--I'm listing my surname resource pages here.

Tubb/s Surname Resource Page
Descendants of Peter Jordan Tyler--b.NC, m.NC/KY d. AR (MO Terr.)

Winchester Surname Resource Page at Rootsweb or at GeoCities
Descendants of James Steven Winchester (and Anna Sutherland)




Back to Genealogy and Other Stuff Home Page
Send me e-mail lambertr@cei.net
Created on: 18 May 1998
Updated on: 16 July 1999
(Graphics for this page by me!)